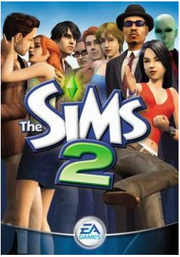 The Sims 2 is a strategic life simulation computer game developed by Maxis and published by Electronic Arts. It is the sequel to the best-selling computer game, The Sims, which debuted on February 4, 2000.
The gameplay is truly SPECTACULAR comparing to The Sims 1, the team really put ALOT of work in this game as gameplay is expansive.
Features that weren`t in The Sims 1
Edit
-Ageing -Family Trees -Cleaning Skill
Comparing the graphics in this game, it completly blows The Sims 1 graphics away, as this game has A TON of 3D graphics.
Reccomendations
Edit
Adding expansion packs really add to the game, so you could probably get any Sims 2 game on Amazon.com for a cheap price.
Overall Rating
Edit
10.0
Pj Monster 1 CP (talk) 04:18, February 8, 2013 (UTC)
Ad blocker interference detected!
Wikia is a free-to-use site that makes money from advertising. We have a modified experience for viewers using ad blockers

Wikia is not accessible if you've made further modifications. Remove the custom ad blocker rule(s) and the page will load as expected.